Sceneca Residence
Tanah Merah Kechil Link, Singapore
Last updated on 2022 March 21 07:03
| | |
| --- | --- |
| TOP | |
| Tenure | 99 |
| Total Units | 265 |
| Site Area | 21, 528 sqft |
| Property Type | Apartment / Condo |
| Developer | MCC Land (Singapore) Pte. Ltd |
| Development | Mixed development with first level of commercial retail space |
| Website | scenecaresidenceofficial.com |
Sceneca Residece by MCC
Sceneca Residence, an upcoming development on the 99-year leasehold Tanah Merah Kechil Link site, will be a mixed-use development. It comprises commercial space of about 21,528 sqft on the ground floor and about 265 residential units. It will be jointly developed by MCC Land (Singapore), The Place Holdings, and Ekovest Development (S).
An eye-catching attribute of this site is its location directly in front of the Tanah Merah MRT station. The proximity to the Tanah Merah MRT station on the East-West Line (EWL) provides effortless access to commercial hubs in Tampines and Paya Lebar.
Sceneca Residence is nearby Changi Business Park, Changi Airport and the exciting future developments in Changi East. It is also a straight train ride to major job centres in Raffles Place and Jurong East on the EWL. Currently, the Tanah Merah MRT station is one stop from the Expo MRT interchange station which is also linked to the Downtown Line. The Expo station will also be connected to the Thomson-East Coast Line (TEL) which will further enhance the accessibility to the city and northern parts of Singapore when the TEL is ready from 2024.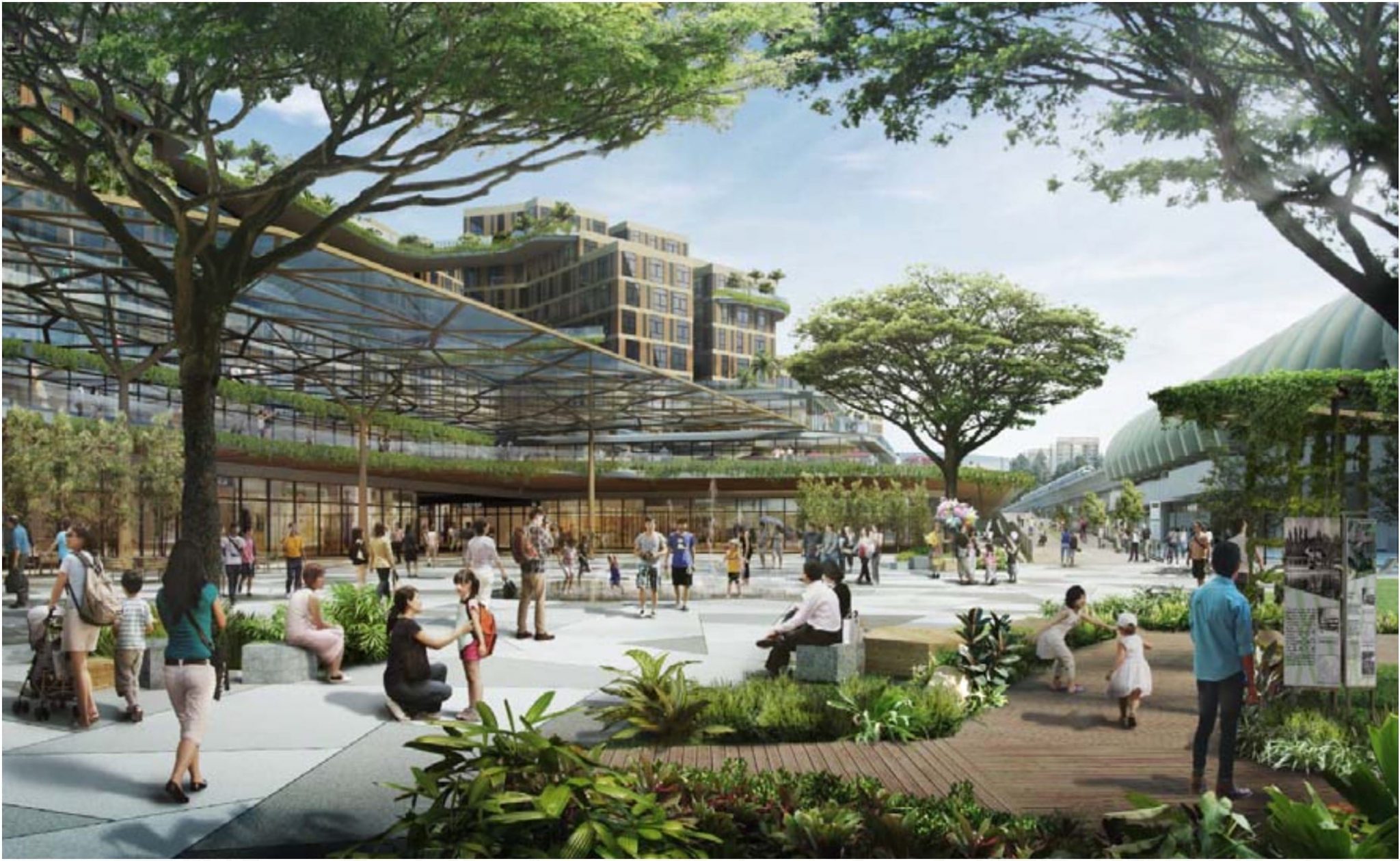 Through a joint development, MCC Land, Ekovest Developments, and The Place Holdings will develop Sceneca Residence. The developers can harness their resources, experts and industry experience to bring out the best of the Sceneca Residence and take advantage of its strategic location right next to Tanah Merah MRT station.
The city fringe location in Outside Central Region (OCR) means that the upcoming development will enjoy steady demand. The supply here is low, which has helped to stabilise the prices. Besides, featuring commercial units makes the residence more appealing since nearby amenities are limited.
Sceneca Residence is well situated between the New Upper Changi Road and Tanah Merah Kechil Road. It is within easy reach of Changi Business Park. It enjoys good access to neighbourhood amenities, including Bedok Point, Bedok Mall, Bedok Food Centre, and 58 New Upper Changi Road Market & Food.
And, with an excellent transport system, the future residents of Sceneca Residence will meet their daily needs easily.
SCENECA RESIDENCE SELLING POINTS
Sceneca Residence will be developed by a renowned developer MCC Land.
Comes with various facilities to suit residents' current lifestyle needs.
Neighbourhood amenities are within easy access, so residents won't have to travel far to meet their basic needs.
Enjoys high market demand and a large tenant pool.
Excellent connectivity to other areas and commutes to work.
Right across Tanah Merah MRT Station.
Easy access to dining and shopping amenities like Bedok Mall.
Paya Lebar Regional Centre and the Central Business District (CBD) are a few MRT stops away.
Register with us today via the form below to get the latest updates, special pre-launch prices, and many more!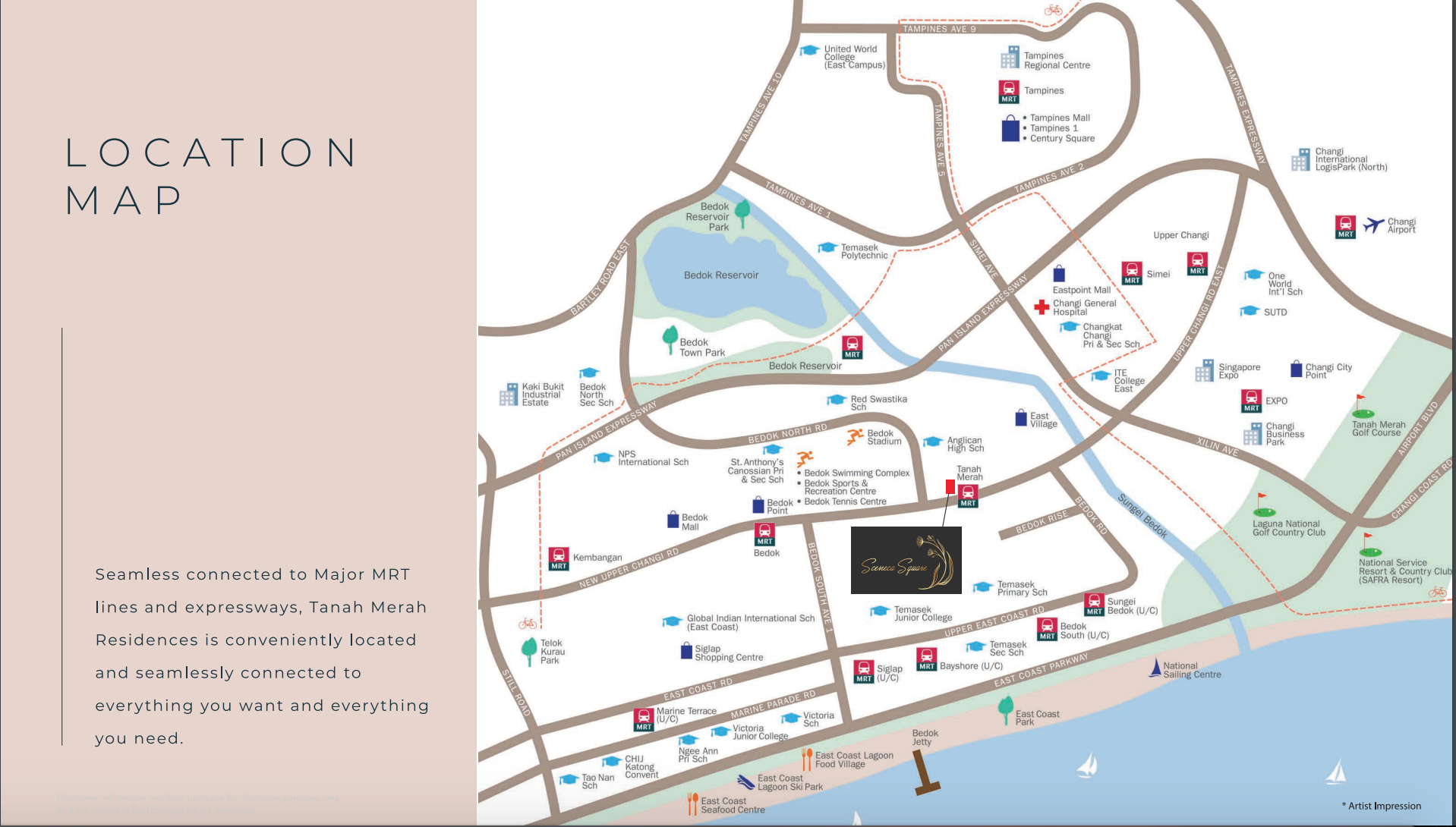 Tanah Merah (Chinese: 丹那美拉 Tamil: தானா மேரா), is a geographical region located along the south-eastern coast of the East Region of Singapore. Although its boundaries aren't exactly clear, it is often widely accepted that term "Tanah Merah", is used to refer to the southern coast of present-day Bedok, Tampines, Changi and Changi Bay.
The name "Tanah Merah" appears in the seventeenth century (1604) map by Manuel Godinho de Erédia on Singapore, written as Tana Mera. This place name is likely to have been an important reference point for the orang laut (sea people) in their activities in the region.
The Malay name for this area is derived from the red lateritic cliffs along the coast that were visible from the sea, hence the name Tanah Merah or "red land". The earliest written reference comes from James Horsburgh's 1806 chart of "Singapore and Malacca", which has the name "Red Cliffs". Later, two sets of red cliffs were identified in Franklin and Jackson's 1830 map: "Large Red Cliff" (Tanah Merah area) and "Small Red Cliff" (present Bedok area) and "2nd Red Cliffs" (Tanah Merah area). J.E. Tassin's 1836 Map of Singapore refers to the area as "1st Red Cliffs" (Bedok area) and "2nd Red Cliffs" (Tanah Merah area).
Old maps also show the existence of Tanah Merah Road as early as the 1840s, which stretched from Kallang River to Changi Point. Now, the road ran mostly along the original route but was renamed Geylang Road, Changi Road and Upper Changi Road, with a section between Siglap Road and Tanah Merah Kechil Road lost after the hills of Chai Chee and Bedok were levelled, and another short section lost under Changi Airport. Later, the road leading to "Large Red Cliff" was named "Tanah Merah Besar Road" while the other was named "Tanah Merah Kechil Road". Besar means "large" while Kechil means "little" in Malay.
The presence of weathered lateritic soil provided the red-orange colouring of the area that led to its name even before Raffles' founding of Singapore. The exposed red lateritic soils were probably visible to many passing boats and hence the "landmark" was captured in early maps of Singapore.
Transport
View from Tanah Merah MRT station
Exterior of Tanah Merah MRT station, located at the epicenter of the region
Tanah Merah's suburbs has a number of available transport routes in and out of the area, making its accessibility little cause for concern. New Upper Changi Road, which runs through the residential area of Tanah Merah, offers a number of bus services, some of which travel long distances.
Raised above the middle of New Upper Changi Road is Tanah Merah MRT station, a railway station which also operates as an interchange for passengers who wish to travel by train to Singapore Expo, Changi Business Park and Singapore Changi Airport. Its neighbouring stations are Expo MRT station, Bedok MRT station and Simei MRT station.
The bus stops next to Tanah Merah MRT station are usual pick-up and drop-off points for buses which take passengers to nearby places such as National Service Resort & Country Club and Changi Naval Base.
By sea, it is also home to the Tanah Merah Ferry Terminal with regular service to the Indonesian Riau Islands, as well as Sebana Cove and Tanjung Pengelih in Malaysia.

Recreation
Being home to four recreational clubs, Tanah Merah offers a vast spectrum of recreational choices such as golfing, tennis, bowling, swimming and water sports amongst other activities.
Tanah Merah Country Club (TMCC) has one of the most expensive club membership rates in the country. This is justified by its plethora of amenities including golf courses, swimming pools, a gymnasium, a jackpot room, tennis, squash and basketball courts as well as lessons and courses on various interests such as dancing.
National Service Resort and Country Club (NSRCC), established to be a recreational spot for full-time National Servicemen, abuts the East Coast beach on the outskirts of Tanah Merah.
Laguna National Golf & Country Club, aside from being a golfing club, offers spa services and other recreational activities such as tennis.
Singapore Armed Forces Yacht Club (SAFYC), founded by a group of sailing enthusiasts in 1967, specialises in sea sports and activities. It offers water sports courses and an array of other amenities for MICE and private functions.
Residents of Tanah Merah also enjoy using the Bedok Park Connector – which is a route that connects Bedok Reservoir to East Coast Parkway. It spans several kilometres long, and runs along a canal/waterway. Residents often use the connector for daily walks or runs. Some also use it for roller blading, or cycling, whilst some even fish, although is not strictly legal. Many are also spotted walking their dogs at these areas.
There are many dining options in Tanah Merah. This includes the restaurants located in East Village, hawker center in The Bedok Marketplace and restaurants in the shop houses along Jalan Pari Burong.
Education
The following is the list of schools in Bedok as of March 2020:
Primary schools
Bedok Green Primary School
Damai Primary School
Fengshan Primary School
Opera Estate Primary School
Red Swastika School
St. Anthony's Canossian Primary School
St. Stephen's School
Tanjong Katong Primary School (holding site until June 2020)
Telok Kurau Primary School
Temasek Primary School
Yu Neng Primary School
Secondary schools
Bedok Green Secondary School
Bedok South Secondary School
Bedok View Secondary School
Damai Secondary School
Ping Yi Secondary School
St. Anthony's Canossian Secondary School
Temasek Secondary School
Junior colleges
Other schools
Katong School (APSN)
NPS International School
Hawker Centres
As of 2020, 10 major hawker centres are serving highly affordable local street food. They are:
Fengshan Market & Food Centre
Bedok Interchange Hawker Centre
Blk 216 Bedok Food Centre & Market
Kaki Bukit 511 Market & Food Centre
Bedok 538 Market & Food Centre
Blk 16 Bedok South Market & Food Centre
The Marketplace @ 58
Bedok Food Centre
The Bedok Market Place
Blk 630 Bedok Reservoir Market & Food Centre